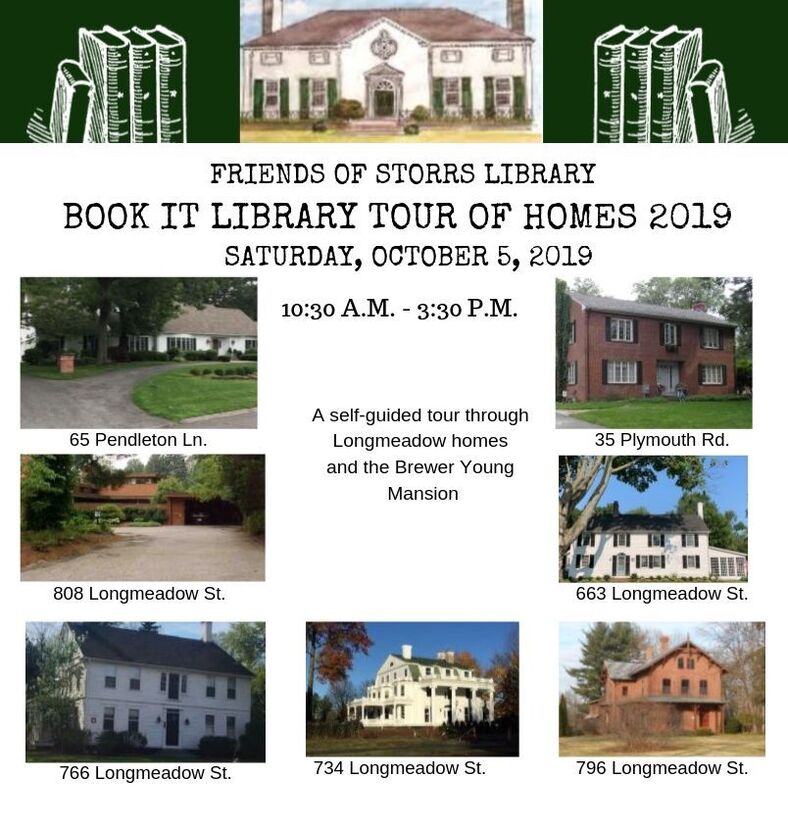 Visit Distinctive Longmeadow Homes
Saturday, October 5th 2019
from 10:30am to 3:30pm
The
Book It Library Tour of Homes 2019
is a self-guided tour through a variety of Longmeadow's charming homes.
Proceeds support Storrs Library
by raising funds to enhance the collections and programming for children and adults
to enrich the cultural opportunities available to our community.
$25 Advance Ticket Purchase available until noon on Wednesday, October 2, 2019
After noon on Wednesday, October 2nd, the price goes to $30
$30 Day of the Event Tickets will be available after Advance Ticket Purchase Deadline
The self-guided tour begins at Storrs Library, 693 Longmeadow Street.
​Doors open at 10:00 a.m. for ticket sales and ticket pick-up.
Tickets will be held under the name of the person who purchased the tickets
.
Tickets will also be available for pick-up at the Library:
Wednesday, October 2, 5:00 p.m. - 8:00 p.m.
Thursday, October 3, 1:00 p.m. - 8:00 p.m.
Friday, October 4, 9:00 a.m. - 5:00 p.m.

​Purchase tickets online by following this link below
*an online processing fee of $1.25 will be added to each ticket purchased online
---
OR - If you prefer, you may download the
TICKET PURCHASE FORM
and drop it off with a check payable to 'Friends of Storrs Library at the Circulation Desk ​or mail it to:
FRIENDS OF STORRS LIBRARY
​693 Longmeadow Street
Longmeadow, MA 01106
---
---

We are truly grateful to everyone who made the Book It Library Tour of Homes 2019 possible. We especially want to thank our business donors and professional sponsors. We hope that you will use their services and thank them on our behalf.

Gold Sponsor

Keller Williams Realty

Silver Sponsor

Armata's

Raffle Donors

Added Attractions - Carol K

Ballroom Fever Dance Studio
Cabi

Caren & Company

Diane Frazee

Hartford Yard Goats

Healthtrax

Magic Wings Butterfly Conservatory

Betsy McKee

Shaker Bowl

Storrs Library Fiber Arts Group

Ume Asian Bistro

In Kind Donations

Amy Tyler Designs

Durocher Florists

Flower Box

Gilded Lily

I Do Flowers

Sixteen Acres Gardens

Starbucks

Wilbraham Flowers

Advertisers

Ascent Laser Aesthetics

Bacon / Wilson Attorneys At Law

Bar Beauty @ Alta Moda Salon

Bay Path University

The Bottle Shop

Carol K's Added Attractions

CGM Consulting, LLC

Chase, Clarke, Stewart & Fontana Independent Insurance Agents

Dave's Soda & Pet City

Diana Coleman, Author and Speaker

Diane Fisher Coldwell Banker

Dowd Agencies

Dr. Glen Brooks Spa on the Green

Dr. Matthew Katz

Dr. Tami Nelson - Hampden County Chiropractic

First Church of Christ Longmeadow, UCC "The Church on the Green"

Glenmeadow Retirement Community

Great Harvest Bread Co.

Al Herringshaw - Pella West Springfield

Iron Chef Asian Cuisine

It's All About Me

Li's Brothers Chinese and Japanese Family Restaurant

Longmeadow Adult Community Center Fund, Inc.

Longmeadow Dry Cleaners

Longmeadow Dental Care

Mimi's Consignment Boutique

Moira Murphy Coldwell Banker

Peck, Adam, CPA, MST, LLC

Pediatric Dental Associates

Rovithis Realty

Serv-U Locksmiths

St. Mary's Parish

Specs Perry

Taylor Street Dental

Tremblay Maison Interior Design and Home Furnishings

UPS Store

Wanda Roberge Estate Sales

*FOSL is a 501 (C) (3) non-profit organization
---
If you are interested in volunteering your time on the day of the event, please email us at:
foslhousetour@gmail.com